Colours Uncovered, Organized by the University of Nicosia (UNic)

Empowering girls to understand their role in STEM – June 22nd to 25th 2021

The purpose of the summer camp was to engage girls in Cyprus with STEM activities, with an emphasis on understanding the role of STEM, and especially the entrepreneurial potential of the field. More than 12 female scientists, science communicators and educators have worked together to develop interactive activities around the topic of "Colours". The girls, in small groups had the opportunity to learn about colours and their importance from the perspective of science, mathematics, technology, engineering and the arts and collaborated on producing final products and present them. They also had the opportunity to work with female scientists, do a field trip at an environmental centre and planed a way to promote their products.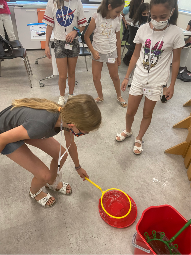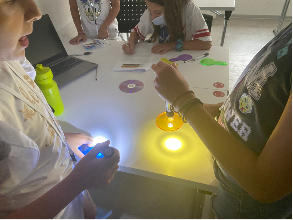 Day 1:
Refractions, reflections on prism or drop
And a spectrum of colours would burst with a pop!
Introduction and the science of colours
Draw a scientist activity and share it with the rest
Discussion and group work on light and colors
Watch a movie to introduce participants to the role of women in STEM
Making giant bubbles: Students formed groups and were asked to make giant bubbles that can fit a person inside. Observed the bubbles in terms of colors, consistency and size. Discussion on how bubbles are formed and what makes the colors on the bubbles iridescent.
Day 2: 
Zoom-in and look closely at any insects or birds you can find.
As long as you are careful, we don't think they'll mind.
Observe how their colour patterns are like an intricate puzzle.
So, are colours in nature just all about dazzle?
Colors in the environment – Visit to National Part and environmental center
Students were introduced to the problem: what is the role of colors in the environment and where can you spot iridescent colors in the National Park.
Students were introduced to field study rules and the technological tools that they used during the field study.
Field study
Presentation of findings and discussion of findings with female scientists
Discussion with female scientists on the mechanisms of birds and bugs relating to the science of colors
Using materials from the environment to produce colors and discuss the technology of materials.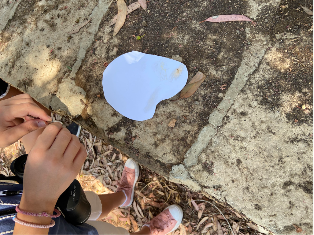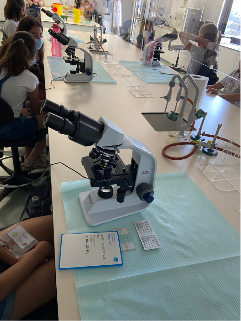 Day 3:
Some think that the spectrum holds only magic and mystery
But the science of color developed throughout history
Provides information for doctors and chemists in different labs
And offers all scientists undisputable facts.
The students worked in groups in the science lab mentored by a female scientist to understand the importance of color in chemistry. Utilize color to find out their blood type.
How do we use colors in lab work? Using indicators and change color as a way to see changes.
Interview with a female scientist: the girls met online a member of the Cypriot epidemiological team and had the opportunity to interview her about her career, everyday life and difficulties that she encountered as a female scientist and science communicator.
Chose a scientist in groups and discussed a new uniform design.
Made drawings and calculations using the design process to prepare outlines of uniforms.
Day 4:
So, just choose a scientist and get in their positions!
What would you do and what would you wear under those conditions?
Think about colors and the role they would have
In a uniform design elevated to stardom and above.
Let's experiment, create, and promote while having fun!
Students visited the STEM Freak Center and learned about entrepreneurial skills in STEM and basic rules and the technologies and tools that were available for them to use (i.e. 3D printer, programming)
Preparation of final project: Made use of what you learned about colors and STEM to create a scientist's uniform for their wooden mannequin considering the role of colour in their design.
Planned the presentation of their designs as a way to promote their final product.