Organized by Upptech – Jönköping Science Center
Background
In our region in Sweden, we have a great need for competent people in programming, CAD, additive manufacturing, electronics, automation, etc. The elements in our Teknikkollo are designed to attract students to this interesting world either as involved future workers or as users of technical products in everyday life.
During the pandemic, the company Prototal manufactured tens of thousands of visors in one week for healthcare in Jönköping. We also printed similar visors at Teknikkollo. A study visit was planned there but could not be carried out.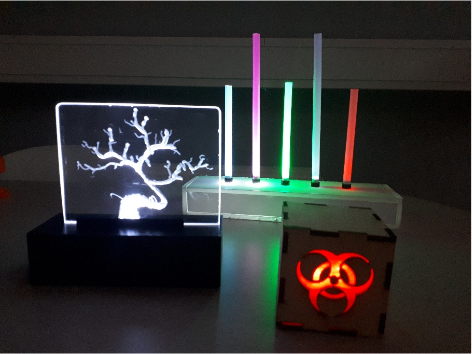 All pictures by Linda Samuelsson
The large company Huskvarna develops, among other things, self-propelled lawn mowers and we link these functions to what a microbit has for opportunities for inputs and outputs. We have received an Automower that we open up and where we look for the different components and functions.
In 2021, we were in a showroom at Telia in Jönköping that, among other things, showed their monitoring of Europe's broadband where they talked about the great need to be connected today for the whole of society and what the consequences will be if data traffic goes down.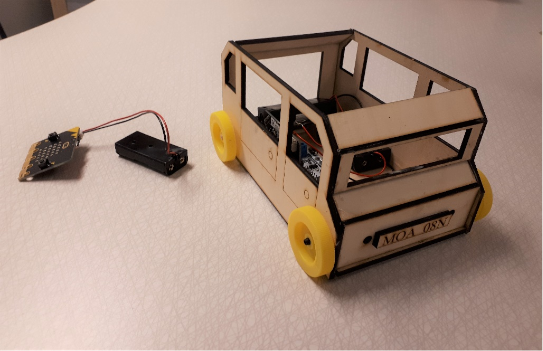 The Participants
Teknikkollo was carried out by KomTek, which is part of the operations at Upptech – Jönköping Science Center. KomTek stands for Municipal Technology School and Entrepreneurship and we work actively to get children interested in science and technology.
Our Teknikkollo runs for 4 days/week with a well stocked program. Both girls and boys are allowed to participate, but we see it more as the boys fill out the places. All girls who apply get a place but not guys. We feel that girls develop well in a heterogeneous environment with us and that the boys' view of girls and technology is at least as important to get girls more comfortable with technology in the future.
The difference in the number of participants had nothing to do with demand but the opportunity to staff Teknikkollo in 2022. In 2021, 47 participants participated in total, of which 18 were girls (Conducted over three weeks) In 2022, 17 participants participated, of which 7 were girls (Conducted during one week).
The Programme
The first two days, the participants learned basic knowledge in how to connect with simple electrical components in closed circuits and learn to solder. They first manufacture a diode board based on their own design. Some then sewed diodes into caps and pen bag. Some soldered circuits boards and made their own beep box that emits sound based on the light level on the outside of the can. They gained basic knowledge of how a MicroBit works and test how to control and regulate things around us with such a thing as fans, thief alarms, street lamps. They gained basic knowledge in how to design in the cad program Tinkercad. They had to print hooks, keychains in our 3D printers and use the laser cutter to cut out and engrave, for example, signs and coasters.
The last two days it was time for their own project based on their own needs/ ideas where they use the newfound knowledge to make a composite product that will be stylish and unique. Before we start our own project, we have a talk about entrepreneurship and the different steps in a prototype development and product development. We use materials from KomTek Sweden and Teknik Collage. Short films and discussion questions. An example of built things is a radio-controlled car in which the body is designed and then cut out in the laser cutter, paired with the parent control board, motors, servo motor, as well as diodes for front and rear lamps. The car is controlled using 2 Microbits that communicate with each other through radio waves. Another example is a girl who built an automatic cat feeder. It was built in corrugated cardboard and pet bottles where the feed feed was controlled by a microbit that reacted to the light level dropping when the cat pushed its head into the vending machine. The servo motor then rotated and pushed a decent amount of cat food into the bowl. Someone made a chocolate wheel cabinet where visitors could hope to win a chocolate bar. This was controlled by a microbit that was programmed to start and stop the wheel.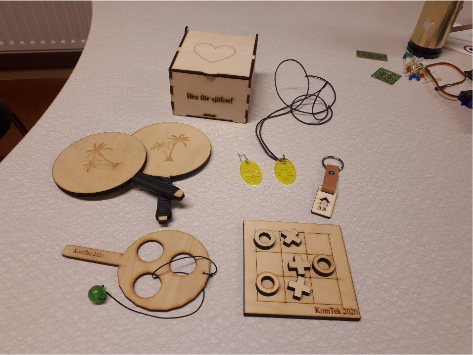 Our initial plans were to cycle to companies and carry out physical study visits to the local area to connect our business to reality. Due to the pandemic, we had to find another solution. Both years, the participants got to meet an engineer digitally in our theater. She works at SAAB in Linköping and is involved in developing solutions that are used in the reconnaissance aircraft Global Eye. She told her path with technology through life as well as emotions associated with it. The participants were completely enthralled by her story and discovered that you can combine your interests to work with a very interesting job, such as technical gadgets and the environment. The participants got to see a wide range of technology areas that SAAB has worked with in Sweden for a long time and what they are working on now and how they are preparing for the future. The participants asked many questions and all the groups commented afterwards that they had expected to meet an old man and not a young exuberant girl. Some guys reflected that "it didn't feel so fair between girls and guys in the adult world" and asked Emelie the engineer how she viewed it.
The closing day was used to finish their projects and to make a short film describing their week at Teknikkollo. There was also the opportunity to try programming some of our robots we have at the center. The films were shown to all participants together with popcorn coziness as a conclusion to Teknikkollot.
Feedback
Overall, we are very pleased with how we conducted our Teknikkollo as well as the content and response. We did a survey with the questions:
How do you think it has been at Teknikkollo in general? How has your group worked? Have you learned anything new? How have your supervisors been? Have you received the help you needed? What did you think the digital meeting with the engineer was like? What did you think about watching some movies from companies (technology in real life)? To all the questions above, everyone answered well or great.
Has your interest in technology changed during the week? To this question, they answered that it has increased!
Our biggest goal is for the participants to learn new technology together and experience the joy and satisfaction of it. We believe that we have achieved that goal.