Denzlingen Secondary school tackles the problem of old solar modules
The SCP members from Denzlingen Secondary school tried to tackle the problem of what to do with old solar modules that aren't used any more. They focused on the following questions:
"How do solar systems work and what happens with used solar systems?" as well as "How can old solar systems be reused?"
They found out that older solar modules are disposed of when they become less powerful over time and are replaced with new, more powerful modules. However, the old solar modules can still be put to good use. The students made it their goal to convert these solar modules into a balcony power system and thus feed environmentally friendly and sustainable electricity into their school system in order to make the school more eco-friendly.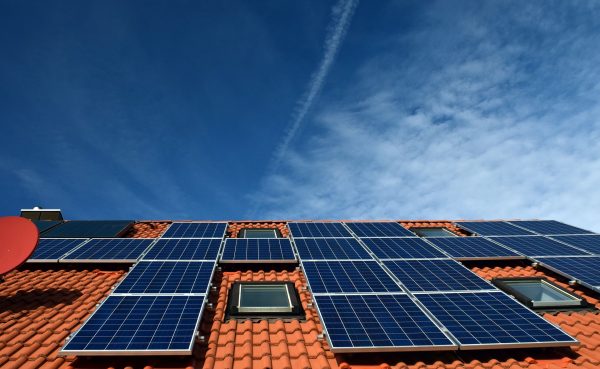 For their project, they founded a sustainability club at the school. The two teachers involved all the members as well as different natural Science classes and personally addressed regional experts as well as representatives from the community to establish an open schooling atmosphere. It was a mixed age group that met with external experts on a weekly basis.
Together with parents, people from a sustainable farming project and two solar companies, they came up with the idea to recycle those solar power modules and turn them into balcony power plants. After that they planned to use the power for different purposes.
How did they work?
When the project idea was finalized, there were many things to clarify in advance:
For installations of a balcony power plant on the school building, they had to talk tot he school management and the municipality as well as the energy supplier to obtain approval.
After research about solar panels, a consultation with the school's janitors about possible installation locations was necessary.
This was followed by a consultation with the responsible building electrician on the installation of the power socket.
After these first steps, they could finally start the project. They did some more research about solar panels and exchanged ideas with the experts. Then they did technical drawings and created a design of the balcony power plants and at the same time did some research on how to build them and figured out ideal locations. After collecting old modules, in their natural Science and Technology classes, they added new cable routing, replaced cables and installed everything. In doing so, they made the old solar power modules ready-to-use again.
Together, they also came up with many ideas on their future use. They wanted to combine the new source of energy with an agricultural project: So they established sustainable gardening and planted all kinds of vegetables in their school garden. They received a construction trailer from the local community and installed a solar system o its roof. It is now used as a charging station for garden equipment and lights.
Future applications of the power units, they will be developing a farm bot which will independently plant and care for raised beds. It is to be powered exclusively by solar electricity from the converted solar cells. For this purpose, an electricity storage system still has to be created.
Moreover, they will design an outdoor classroom and use the power in order to fuel the overall school's power system with power from the balcony power plant as much as possible.
To sum up, the solutions they found were manifold: They found a way to recycle and reuse old solar modules and avoid their waste. Moreover, they produced environmentally friendly power for their gardening project and will even make greater use of it in the future by at least partly fueling the school's energy system with that power.
Eventually, they disseminated their results through the publishing of an article in the local newspaper, informed the whole school community about it through their website and became an inspiration for projects in other regions by spreading their ideas through the MOST section on the ICSE website.
It is a success story because they basically use waste materials and reuse them for various purposes. It is also a sustainable project that will continue working on eco-friendly energy beyond the projects lifetime, because the SCP participants met in an extra-curricular setting which can sometimes be helpful because participants are highly motivated, external participants can sometimes attend the meetings more easily than in the mornings and the project is not restricted to a school year, but work can go beyond that.