As we arrive at the highschool of Gernsbach, the 7th grade is already expecting us. Starting our morning with a round of introductions we shortly after continue with a short description of the topic of sustainability. Therefore, we brought our treasure chest. Each student is able to walk up to the box and collect an item. In a next step they're supposed to talk about the object in small groups and think about its connection to sustainability. There is a small trash can, pictures of clothes, a plain, a shampoo bottle, a toothbrush, a picture of solar panels and so on… Immediately the groups start talking about their objects and are motivated to have conversations about the topic and have great ideas how they affect us in our daily lives.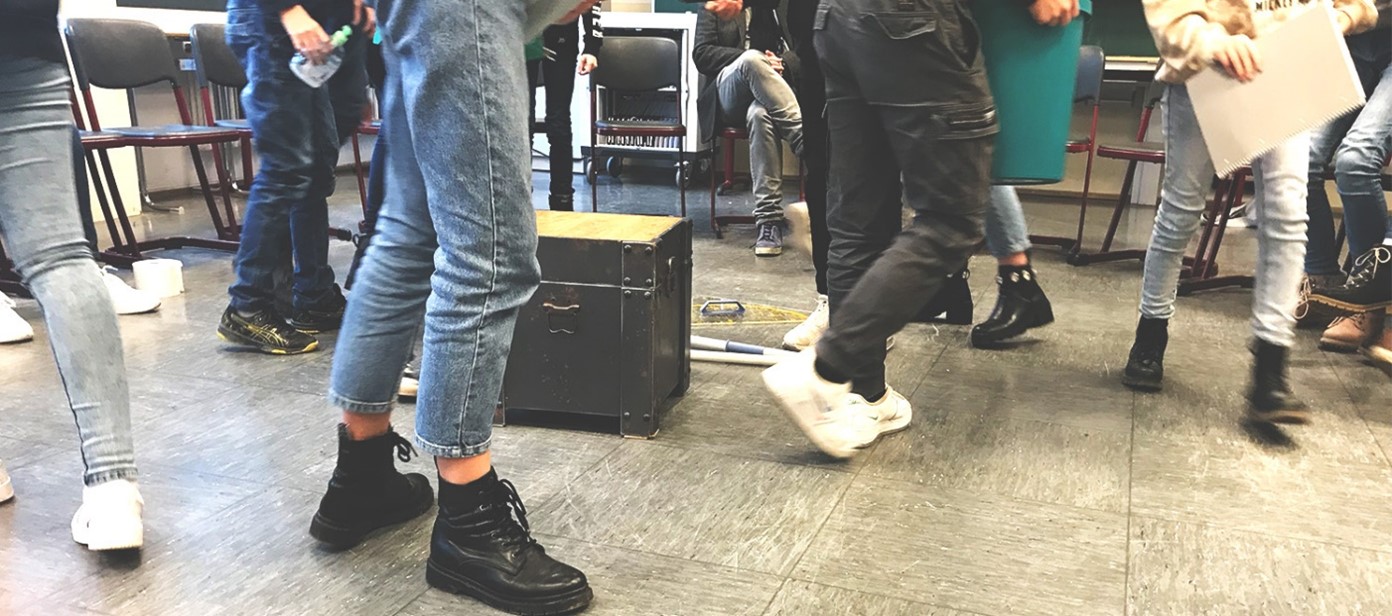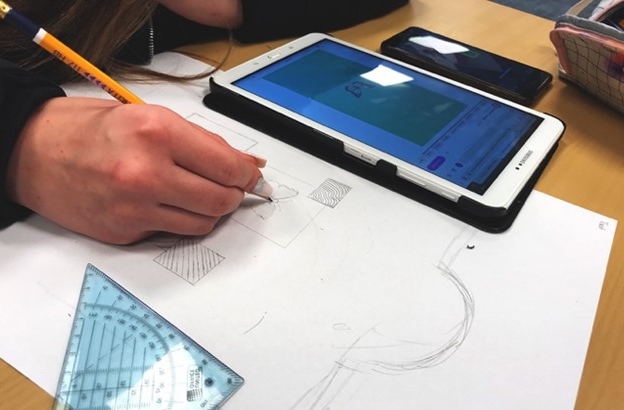 As the discussion is lead to the question in what way we as a group would be able to have an impact in at least some of the topics, they shortly realize that even small changes in our daily lives would have an immense impact on our planet. One student simply recognizes that they
as students are the next generation and had to create a space worth living in by preventing more damages, especially regarding the climate. As part of ICSE we were positively surprised in how little impulses we had to give in order to make them think and create ideas for their own project.
A big topic for the class was clothing. Especially growing up they realized how many clothes they bought over last years, not knowing what would happen with all the textile being produced each year, creating a big amount of waste. So they decided they wanted to do an upcycling project with us.
The first step that day would be a round of research which they could do on tablets, provided by the school. Without asking for any bigger breaks they started to work on ideas and first sketches by themselves and showed great ambition to start our upcycling workshop.
They formed six groups which each decided on slightly different products and made lists on how to realize their ideas regarding the questions of  how to get the materials they would need, think about the work load, ask for professional help and think about how to sell the products in the end and what to use the money for,  creating a space for the open schooling aspect of our work. They would ask parents to organize donations for the clothes and found a woman to help and teach them how to sew. The owner of a local fashion store Z. Müller will talk to the students about their ideas and they will visit a clothing manufacturer where everything is made im Schwarzwald  to better understand the procedure of production. As a design consultant for their first ideas I accompanied them drawing their first sketches and we are curious to see how they will proceed with their work.