The teacher of Vilnius Sietuva progymnasium: Snieguolė Bagočienė
How to create a lighting system for a house or apartment, a school, a house that produces more energy than it consumes, and how to connect other sensors, modules, sensors and solar panels in the future house.
Motion and room light sensors linked to switching lights on or off to help save energy. Selection and testing of bulbs in indoor environmental conditions. Implementation of the best solution in the house or apartment. The house is constructed in wood and generates solar electricity to heat water and provide enough electricity for the household.
Water is collected from the roof and used for heating and household needs. A well-designed ventilation system is an important part of a healthy home environment. The CO2 rate indoors is very important for a person's general well-being.
Investigate how much we save on electricity by converting to solar power. How to use less of the normal electricity provided at home, in the apartment or at school. How to reduce waste by turning it into energy.
Meet both at school and remotely via Zoom. The children worked at school. Parents worked at home in some cases. They explained how to implement the tasks in the project.
We've created a house that produces more energy than it consumes. The house is visually based on drawings created by children. Everything will be controlled mainly by Micro:bit computers. The house reacts to sunlight, triggering a variety of sensors.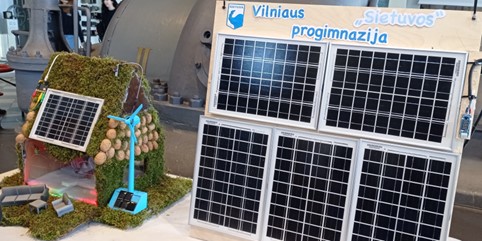 To make students aware of global issues at school, and to help them learn how to save electricity and land resources. We realised the complexity of the system that has to be put together to produce the house of the future, but beyond that, it will already have all the functions in place. The more of these buildings we have, the cleaner our planet will be.