Vilnius Jesuit High School

by Eglė Jasutė, mathematics teacher for 13-14 year olds
This is a project about decreasing pollution that comes with the use of markers. Our goal is to raise awareness on the mentioned topic and make a difference.
We often use markers in our daily life, especially at school. But there is one big problem – markers aren't refillable. After markers run out of ink, they are usually thrown out without thinking twice. Most of them aren't biodegradable because the reservoir, which holds ink inside of a marker, is made out of polyester, while the body of a marker is made out of plastic. Therefore, it is not possible to recycle a marker as one piece. So, what are some environment-friendly solutions?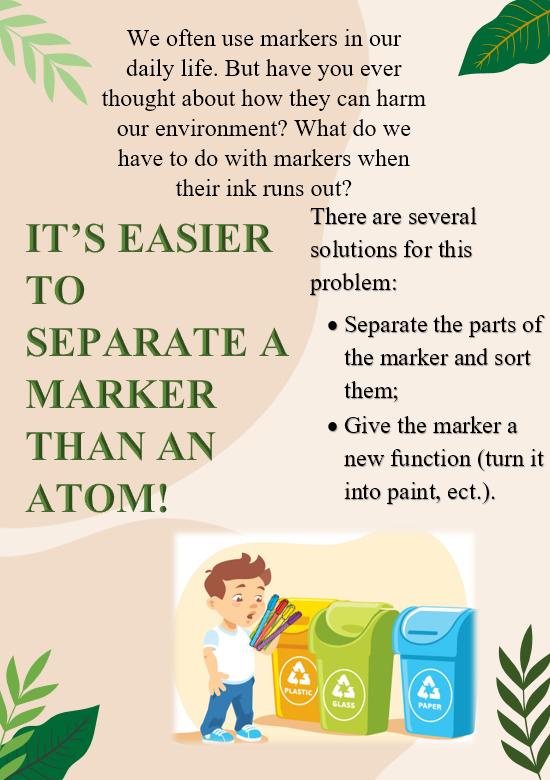 First, we made a public poll in which people informed us, what they do with markers that have run out of ink. Afterwards, we came up with a few ideas for reducing pollution caused by markers:
Bringing markers back to life. The process is simple: take a used-up marker and dip it into water. Then wrap it in plastic cover (you can reuse the wrap multiple times) and leave it overnight. The following day, the marker is going to work as brand new. Here's a tutorial on how to do it: https://youtu.be/cx_A1xZG7H4
An artsy solution. It's quite easy to make paint out of old markers: take some old markers and put them in water-filled jars. Then leave it overnight. The following day you are going to have some lovely watercolour-like paint. Here is a video on how you can do it: https://youtu.be/Y9LWpvjJuyw
A correct way to recycle. There's also a way to recycle markers without harming the environment. All you have to do is take the marker's components apart. Now you can recycle separate parts individually.
Another useful thing to mention is that some companies, like "Crayola", offer marker recycling services. You can send a handful of markers to them and they'll recycle the markers.
In conclusion, even though the problem seems quite tough to solve, there are multiple options to reduce pollution that comes with the use of markers. So, what are you waiting for?