St. Benedict College, Middle School, Kirkop
Research question: What was the research question? What are the underlying regional problems?
How much waste does our school produce?
What are the characteristics of this waste?
Can it be avoided or reused or recycled?
How can these practices be applied to our homes?
The project focused on various waste fractions and aimed to:
sensitize students about the issues related to the problem of waste
lead students to identify alternatives and behaviours that effectively address the waste problem
empower students as change agents in their families and the community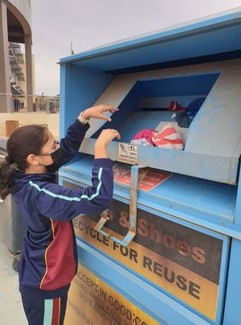 Approach: How did you proceed?
Students participated in the international Mini LitterLess Campaign which raised awareness about the harmful effects of litter in our environment. Students took part in 7 different actions: Appreciating the beauty of nature; Harmful effects of plastic on animals; Harmful effects of invisible pollutants; Reducing our consumption to reduce waste; Adopting a zero-waste lifestyle; The importance of a joint effort to reduce litter; and A clean-up to pick up any litter that surrounds our school premises. The actions were seen as the primer to spark off efforts on waste reduction. Work then focused on different waste fractions.
Students focused on recycling and upcycling clothes. After learning about the origin of clothes and the positive environmental impact of recycling, upcycling, and donating clothes, and the difference between recycling and reusing clothes, they participated in a craft activity, whereby they upcycled an old t-shirt and made a tote bag out of t-shirt material. The next phase included students sensitizing their families about the issue. This led to families going through their wardrobes and donating old clothes that were placed sorted for recycling or to be sold as second-hand items.
Paper Waste was also targeted to address the large amounts of paper used at school every day. During a class workshop, students learned about the process of making paper and paper recycling. They then identified ways how to reduce paper consumption and symbolically planted a couple of trees in the school grounds to compensate for paper waste.
The school efforts in waste reduction were also presented for the European Week for Waste Reduction 2021.
Solution: What are your findings?
Most of the solutions proposed focused on waste reduction and on ways of maximizing the use and thus extending the life of products.
Recommendation: What solutions have you developed for the regional problem(s)?
More informed use of the national recyclable waste collection scheme.
Creating awareness about upcycling as an alternative to recycling.
Dissemination: How did you promote your recommendations?
The project's results and suggestions were disseminated throughout the whole school community and beyond through the school's social media platforms.
While disseminating their findings, the school established collaboration links for this and future projects with: (i) Kirkop Local Council for community outreach; (ii) ST Microelectronics – for work with electronic waste; (iii) HSBC Malta for work regarding Climate Action; (iv) Wasteserv for work related to waste management; and (v) ReFab Textile Recycling for work specifically focused on sustainable use of textiles.