How Can We Reduce the Impact of Blue Light on People's Health and Well-being?
In autumn 2022 – spring 2023 the 25 children – 15 boys, 10 girls – in Year 4 (age 9) at Birralee International School, Trondheim, Norway worked for approximately six weeks with the SCP project. Given the overarching theme of Energy, the school had to find ways how to translate the theme to make it accessible and applicable to young children, since energy is quite an abstract concept for them. Furthermore, given the project framework of being community-based, it was not obvious at the beginning what authentic problems in the community that were relevant to be solved, neither was how the involvement with the community could be made.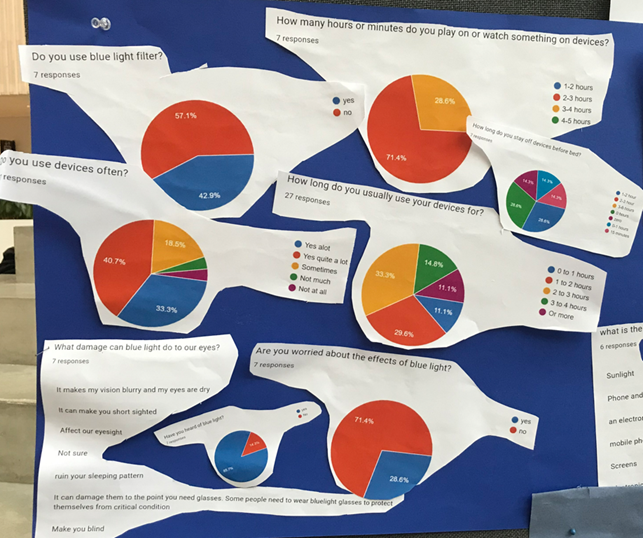 "Statistics about blue light" Photo: Ragnhild Lyngved Staberg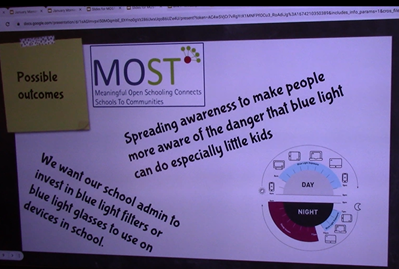 The school has then developed a model of SCP implementation, in which SCP was anchored in the International Primary Curriculum (IPC) (see explanation about IPC in the link given further down). The Year 4 teachers identified a teaching unit called "Full Power!" in the IPC, and with the support from the school leader and science teachers from the middle school, they worked out the teaching module so that it focused on "Well-being and the consequences of covid". The module was inspired by the fact that children and adults were, to a much higher extent than usual, exposed to digital screens during the covid lock-down period. Year 4 children started to ask themselves how too much screen time will affect our health? This question developed into more elaborated ones as they focused their SCP on the topic of BLUE LIGHT. The children investigated different aspects of blue lights, such as "What is a blue light?", "How much are people exposed to blue light?" "What risks can blue light have on people's health and well-being?" and "How can we prevent health hazards caused by blue light?". A student explained: "Blue light is a light that comes out of the screen". Here they saw the connection between blue light, energy and the potential health hazard it might cause.
The school collaborated with the community by encouraging students to conduct surveys to families, friends, all teachers at the school, etc. about their daily habit on use of electronic devices, for instance asking on the average daily screen time. "And Year 4 again, they're hoping to do more involvement through surveys and asking people. So, they sent out surveys about blue light for example and that's how they've involved people" (School leader interview). Based on the survey data, the students made statistical analyses, they found among others that 43% of adult work requires using tablets or computers, and nearly 70% of the informants experience a sort of eye strain. The students also made research on potential problems blue light can cause, especially for children, and found that blue light can "mess up sleeping patterns, affect the eyes, to some extent damage brain, and affect the mental health" (Student presentation). They concluded that measures had to be taken to help people prevent further health hazards caused by blue light.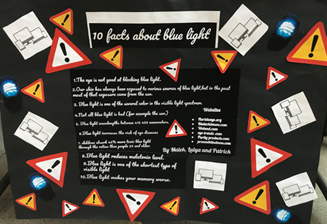 "Examples of poster – 10 facts about blue light and advice". Photo: Maria Febri
The class was divided into groups who worked in finding solutions to the different problems. Some groups worked on solutions to blue light hurting their eyes; they investigated facts about blue light and created informative posters while another made fake models of blue light filters like glasses and visors. The filters had the size of a mobile phone, a laptop screen, a desktop screen and glasses, so they had to make measurements of those devices. They also wrote letters to the school leadership to ask for blue light filters for the school devices. The students recommended that the school invests in blue light filters.
Other groups worked on making electric circuits, created campaign videos, made games/ quizzes (Kahoot), did inquiries on electric energy, such as the advantages and disadvantages of different types of power plants (hydro, nuclear, solar, etc.) and made models from recycled materials.
The SCP allowed them also to work cross disciplinary, combining science (e.g. learning about blue light, power plants, electric circuits) with English language (e.g. by writing letters and making presentations), Design & Technology (by making models), and Mathematics (cf. measurements & calculation to make models and statistical analysis). In addition, the children developed their soft skills, such as communication, teamwork, empathy, time management, problem solving in addition to being resilient and ethical.
The potential outcome of the SCPs was to spread awareness to people of the danger that blue light can do, especially to young children, and encouragement to the school administration to invest in blue light filters for use on school devices.
Dissemination
The students shared their work with other SCP groups from outside school at the MOST Fair at NTNU. In addition, the school organized an Exit Point, where the students made exhibitions of their work and disseminated their results to parents, and to other students in school.
Why is this SCP exemplary?
This SCP is considered exemplary because it addressed real, authentic problems faced in the society, where people of all ages (from young children to adults) seem to increase their screen time in front of electronic devices in their daily life. This SCP is also exemplary because it provides a new, original angle to address problems about Energy – that is by connecting it to the health issue. In addition, by working with the SCP, the young children gain knowledge and learn soft skills that are important for their future. Since they are now aware of the effect of blue light on health, it will, hopefully, help them to be self-regulated and make wise decisions regarding their screen time.
In terms of professional development, the school leader thinks that this project has allowed the teachers to gain tremendous knowledge: "I think for the teachers this project made them think a lot harder. They had to think of the ways to make it accessible, think of the ways they can make into community-based, and then check on the subject as well" (school leader interview)
The parents too seemed to be enthusiastic that their children were involved in the SCP. Here are some comments from a parent:
"We enjoyed the MOST project and interactions that it provided around the blue light and covered topics both at home and in the school, as well as the opportunities for students to develop their research skills" (Parent survey)
"The main impact was to facilitate research on the given topic at home and in school, encourage shaping questions and forming them in the questionnaire, learn more about analyzing data, gain further skills in presenting and overall increased awareness" (Parent survey)
Links:
IPC: https://www.goodschoolsguide.co.uk/international/curricula-and-exams/the-international-primary-curriculum