The Waste Reduction Race is an initiative created by the students in Trondheim International School (THIS) as part of the MOST project. This game-like campaign aimed to see how to minimise waste and reduce unnecessary consumption in a playful and meaningful way. The students from the Middle Years Programme (MYP 9) set a goal to gain a better knowledge on waste and observe how individuals can make a difference when collaborating together
As the school community projects (SCPs) in MOST aims to strengthen collaborations between students, teachers, community members and other stakeholders, the students recruited teachers, parents and SINTEF Ocean as a research organisation to take part and compete with them in this climate challenge. The recruitment of SINTEF was done through one of the parents at THIS.
Nothing can be more fun than competing in a game with your classmates and teachers, even more when adding another level to compete with parents working at SINTEF Ocean along with researchers working on innovation and sustainable use of the ocean.
The challenge lasted for two weeks, in which 57 participants from three teams (Students, Teachers, and SINTEF Ocean) competed together using a Ducky platform through logging concrete climate activities based on Norwegian consumption data using nudging, positive climate actions, and peer-influence.
The Climate activities included daily climate activities as switching-off unnecessary lights, reducing indoor heating, eating vegetarian, and recycling waste. In the Ducky platform, the participants could track their progress with the other teams, setting goals, and give real time climate data, with comprehensible climate translations making the competition even more meaningful and joyful.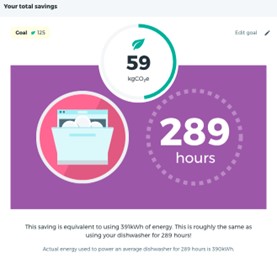 During the two weeks challenge, the participants managed to log in around 4400 climate activities and saved around 4000 Kg CO2e which is as much as 410 trees absorb in a year. Looking at the bigger picture, if everyone in Norway did this, that would amount to a 19% reduction in Norway's total greenhouse gas emissions! What a spectacular achievement!
In the competition, researchers from SINTEF felt more engaged in environmental issues, learned something new, and felt that the challenge was a good way to reduce emissions.
If you are wondering who the winner of the Reduction Waste Challenge is, it is everyone!