Business-oriented students create waste films
Young business-oriented high school students have competed with self-produced films in a film festival. The films are about how important it is to recycle waste – an important knowledge for students in their future professional lives.
Together with June Avfall & Miljö, high school students from Thoréns Business School in Jönköping have become acquainted with different types of waste at the sorting yard. After that, the students immersed themselves even more in waste management and formed groups that each present waste in a self-produced film. The films cover food and residual waste, metal, electricity, hazardous waste and plastic.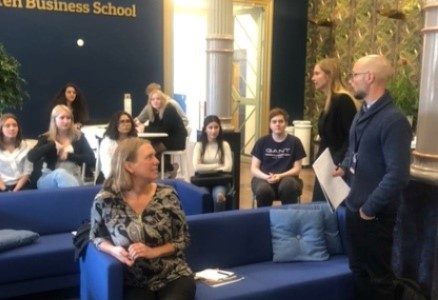 Film festival
The films participated in a film festival that the business high school arranged on Friday, September 25, 2020, where the film about residual waste was named the winner.
Watch the winning film here. Link to another website, opens in a new window.
Important with waste management
Some of the students chose Thorén's Business School because they want to study to become brokers and lawyers. They were a little surprised that waste management appeared on the schedule but now think that waste management can be linked to several topics.
– We did not know that there were such hazardous substances in electrical waste, says Absan Ahmed, who is in his first year of the Business Program. She points out that it is very important that we care about how we handle waste because it is harmful to humans, animals and nature.
– The biggest winner is the environment, according to Kristoffer Krantz, marketing manager at June Avfall & Miljö. According to him, cooperation with the younger generation on waste prevention measures is an investment in the future.
– Preventive work increases young people's sense of participation and responsibility at the individual level, which increases the chances that they will continue to work for a sustainable and circular economy, Kristoffer Krantz concludes.