Created by pupils at Thorén Business School

Young business-oriented upper secondary pupils have competed with self-produced films in a film festival. The films are about the importance of reduce, reuse and recycle – important knowledge for the students in their future professional life.
Upper secondary pupils in year 1 from Thorén Business School in Jönköping, have become familiar with different types of waste during a study visit to the waste yard. The students have immersed themselves even more in waste management and formed groups that present one type of waste each in self-produced films.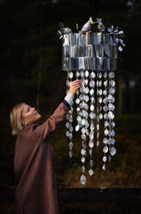 The project has resulted in five films about residual waste, metal, electrical waste, dangerous waste and plastic. During a closing film festival, the groups presented their work and their film.
A jury of representatives from the University of Learning and Communication at Jönköping University, Upptech, Thorén Business School Jönköping and June Waste & Environment, selected a winning film, which was a film about residual waste.
The project is one of several SCPs (School-Community Projects) in the MOST project, which stands for Meaningful Open Schools To Communities, which is an EU project.
See more for pictures, films etc:  Avfallsfilm 2023 – MOST – Jönköping University (ju.se)