Working Towards Becoming Key Competent
Elena Köck, Berit Stier, Chrissi Fischer
The Framework: Lifelong Learning for All
The EU pursues a variety of initiatives to realize lifelong learning for all. One major tool is the Framework for Key Competences on Lifelong Learning as adopted by the Council of the European Union in May 2018 (The Official Journal 2018/C 189/01). The recommendation names 8 key competences as one major element of personal and professional fulfilment; to being able to participate actively in our society, to pursue sustainable lifestyles and to adapt to constantly changing conditions at learning, training and work places.
Key Competences are defined as a combination of
KNOWLEDGE: facts, concepts, ideas and theories to understand a certain area or subject
SKILLS: the ability and capacity to use the existing knowledge to achieve results
ATTITUDES: the mind-sets to act or react in various personal, societal and professional contexts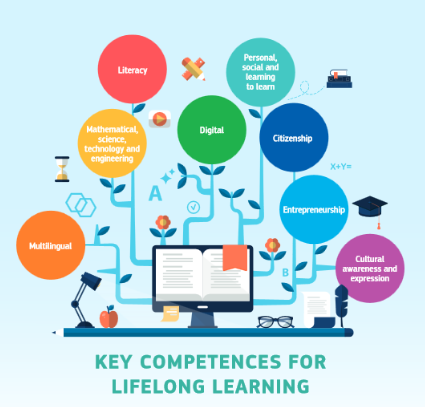 Graphic: The Official Journal 2018/C 189/01, Council of the European Union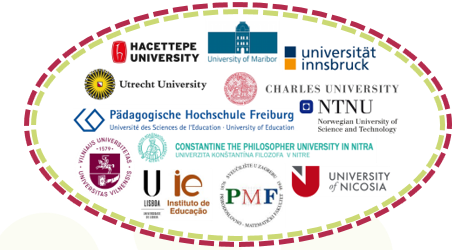 The Implementation: STEMKey Project

At the International Centre for STEM Education (ICSE) a grand consortium of 13 Higher Education Institutions across Europe work on our STEMkey project to support the Europe-wide implementation of the framework with a focus on STEM teaching and learning. Educational experts and researchers from 12 European countries are developing 13 modules for pre-service education of future teachers in STEM education. They are working on strategies and materials to enable future STEM teachers to impart subject knowledge while fostering key competencies in their students. The goal is to promote the ability to apply this knowledge, while addressing students' emotional attitudes and personal viewpoints in the process.
Second STEMkey Meeting
In May 2021 the STEMkey consortium members met for the second time online. There they continued the discussion around what innovative STEM teaching should look like within the project framework. They came to agree that transdisciplinarity should play a major role in the development of the modules. Ideally, knowledge transfer should no longer refer to just one isolated STEM subject. On the contrary, students must be shown the connections between the different STEM subjects, so they can learn to apply acquired knowledge in larger contexts.
Find out more about STEMkey on the project website.