MOST contributes to a policy forum of Horizon 2020 projects at the European Commssion in Brussels
The OStogether network is an informal network of projects funded under calls related to Open Schooling through the Horizon 2020 and Horizon Europe programmes. The network brings together more than 50 organisations closely collaborating together and complementing each other within the big picture of Open Schooling.
The Horizon 2020 projects Make it Open and SALL, with the support of the OStogether network, organized the forum: Innovating European Education: Open Schooling as a boost for Europe's skills on June 26, 2023 in Brussels at the European Commission (the One building). The event framed within the European Year of Skills, the event will brought together policy makers as well as experts in innovative science education practices. This forum was a fantastic opportunity to share the vast body of knowledge and experiences that have been built over the years on Open Schooling and discuss how this could shape policies around innovating European school education systems and the future.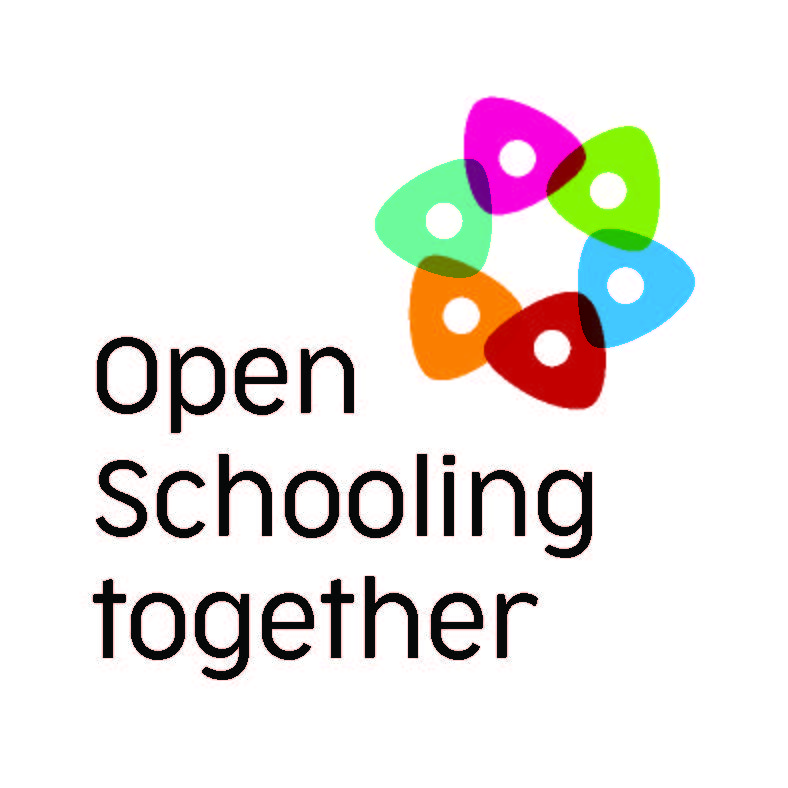 European Commission, Brussels
Karen Slavin, DG RTD & Michael Teutsch, Head of Unit 'Schools and multilingualism', DG EAC, European Commission welcomed the audience, while the keynote speech was held by Paulo Blikstein, Associate Professor of Communications, Media and Learning Technologies Design at Columbia University. The subsequent high-level panel, moderated by Maria Zolontosa, discussed policy recommendations from open schooling initiatives. Speakers on the panel: Maya Halevy, Director at the Bloomfield Science Museum Jerusalem, Pavlos Koulouris, Senior Researcher at Ellinogermaniki Agogi, Stephanos Cherouvis, Senior Project Manager at Ecsite, Annalisa Addis, Project Manager and Research Associate at The Lisbon Council, Marta Romero, Director of the International Project Office at the University of Jaen and representative of the MOST project. The panel members exchanged experiences and perspectives around the following questions:
What are the main learnings from your open schooling projects?
What do you see as main challenges in scaling open schooling initiatives and how can we overcome those?
What is the one recommendation that you would like to make to policy and decision-makers working in education?
A world café on questions about "The Future of Open Schooling" rounded off the successful event. More information on the outcomes of the panel discussion can be found here: https://www.connect-science.net/brussels/
In relation to the questions addressed through the panel discussion, Marta Romero Ariza, as representative of the MOST project, focussed on the description of evaluation results as main the main sources of learning from the MOST project experience. Through a pre and post research design in the 10 participants countries, MOST has collected research evidence of the positive impact of Open Schooling (OS) on students' interest in science and scientific careers, their scientific literacy and their understanding of current sustainability issues and their key role in solving it. This is an important achievement because it is well aligned with European priorities related to the green deal and the education of scientifically literate and highly committed citizens who can actively contribute to RRI but also to the development of smart and sustainable solutions to current environmental and societal problems.
According to feedback received from the different regional/national case studies, we know that teachers perceive barriers related to the school organization and curriculum as well as the existing evaluation systems to assess students' learning outcomes. They demand time and spaces for teacher interdisciplinary collaboration and specific support to know how to open the schools' doors for educational projects that engage different agents (scientists, entrepreneurs, associations sharing common goals and concerns, businesses, NGO, etc.) not only in the improvement of local environments but also in the provision of meaningful, relevant and competence-based learning.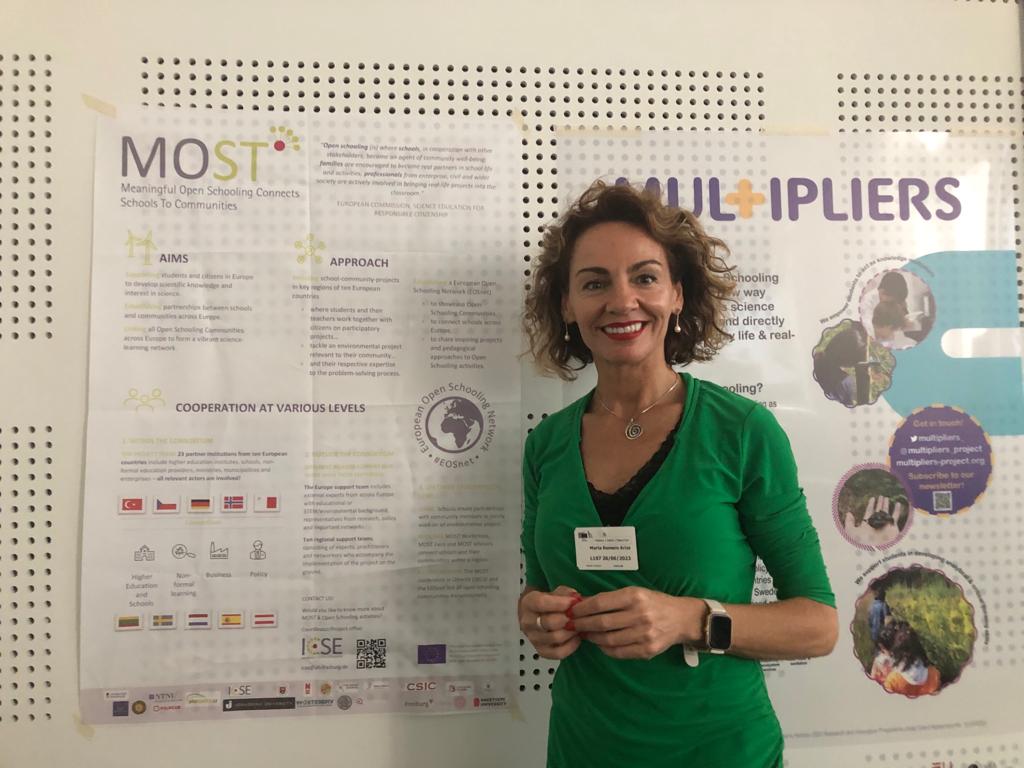 Marta Romero Ariza, University of Jaén (ES), representing the MOST project at the policy forum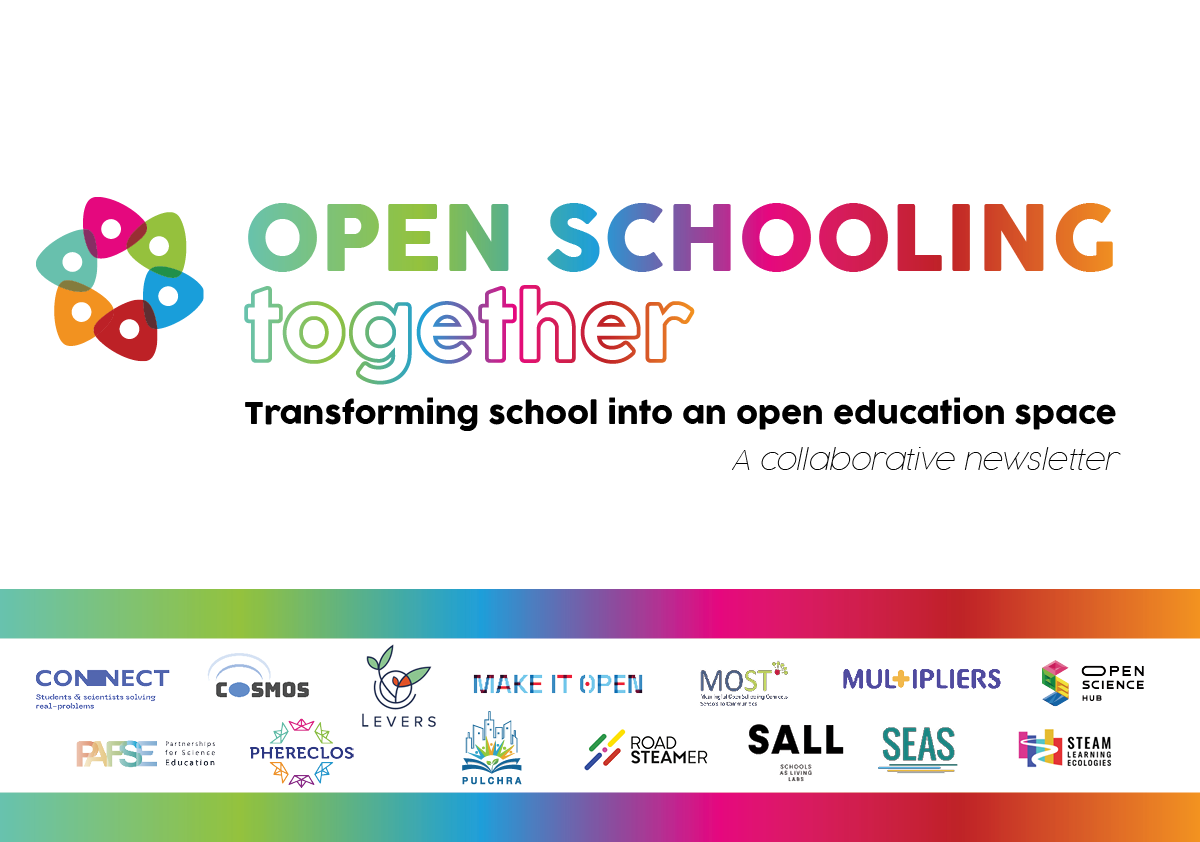 In addition, they required specific teacher professional development to know how to enact OS, teaching materials and best practices. Therefore, it is essential to combine bottom-up initiatives that ensure empowerment and ownership with top-down ones that provide systemic support to make the implementation possible, feasible and sustainable.
Finally, on behalf the MOST project , Marta Romero Ariza highlighted the importance of a) reconising education as the main tool to expand people's knowledge and skills and therefore, to develop our full capacity as society, but also as a powerful influence on people's values and behaviors to fully engage, support and co-create a better and more sustainable world; b) promoting research-based education, building on evidence about what works, what makes a difference and makes us closer to our goals as society and not leave education to move according to mere appealing nice messages or trends and fashions because its implications are very serious; c) really prioritise what is essential and sustain the efforts along time, so we can ensure that we reach where we want to reach in a feasible sustainable way.