Contradiction

 

or

 

O

pportunity

?

 
by Aileen Fahrländer and Prof. Dr. Katja Maaß 
"I'll never need that again!", "What's the point?" or "What does that have to do with me?"
These kind of questions are probably (still) familiar to many STEM teachers.  
The International Centre for STEM Education (ICSE) at the Freiburg University of Education is an internationally networked center with the goal of reorienting STEM education in Europe. The aim is to provide all students with a basic mathematical and scientific education and to improve their performance in STEM subjects in order to promote their affinity for careers in the STEM fiel. The methodical focus is on authentic learning contexts with real-life and professional connections, interdisciplinary networking and research-based learning, taking into account diversity and gender aspects. The work of ICSE is project-oriented with a special thematic focus, such as sustainability in the EU project MOST (Meaningful open schooling connects schools to communities). 
Methodical and personal opening 
The methodical approach of MOST is Open Schooling, i.e. the idea that schools work together with other actors on topics relevant to society as a whole. Families are actively involved in school life and school activities, and experts from companies and interested citizens participate in the implementation of real projects within the school (see also Grau et al. 2020).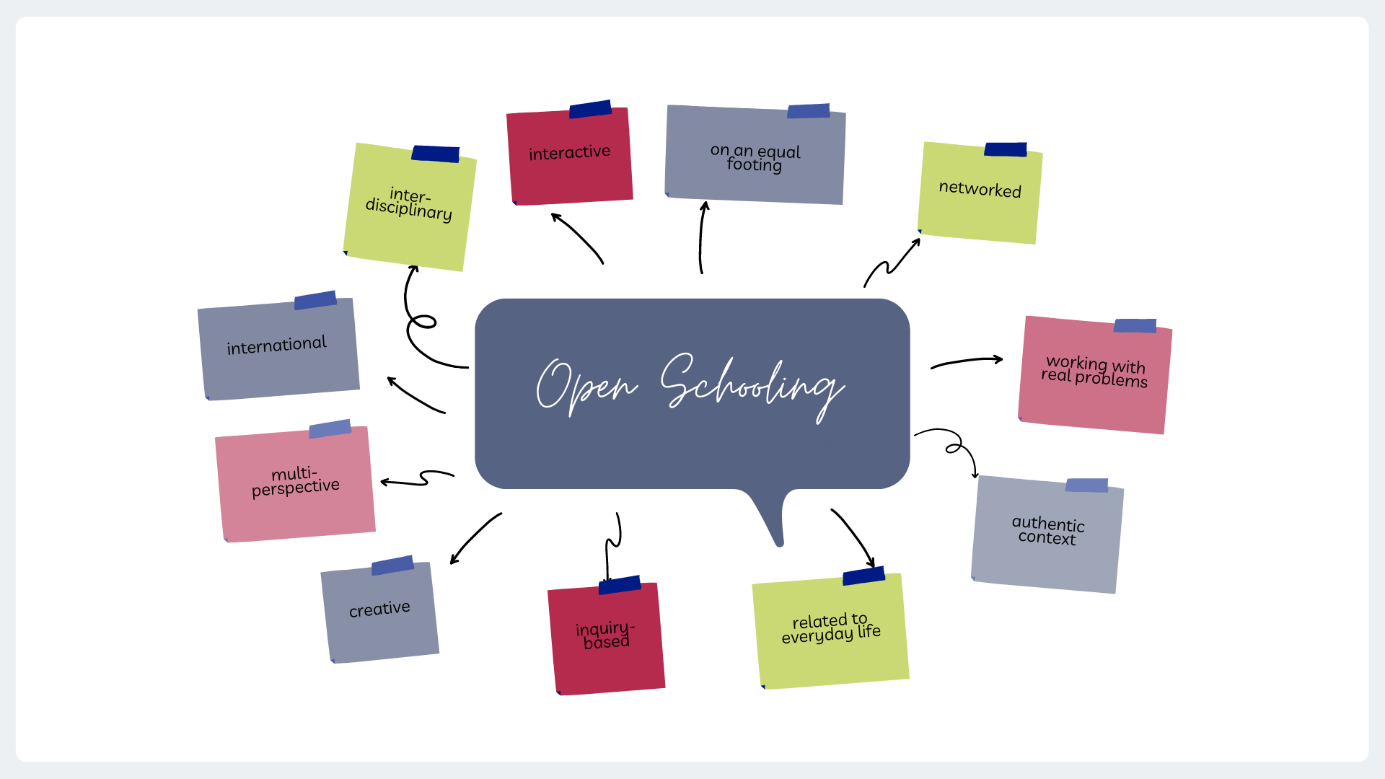 International opening 
For this purpose, innovative and creative projects between students and teachers and non-school actors are to be initiated on an international level around the topic of sustainability. 
The challenges of initiating such a project during a global pandemic are considerable for all involved: contact restrictions, ever new requirements, distance and alternating teaching – without denying their necessity and sense – require teachers to be highly present and flexible in dealing with these uncertainties. The implementation of new educational measures and projects at the present time still, and possibly more than ever, confronts us with questions about meaning, purpose, added value and effort. The mental transfer from "despite the pandemic" to "precisely because of the pandemic" can possibly contribute to a change of perspective. An increasingly complex and technological reality of life, global social and economic challenges is precisely where education in the 21st century must start. By teaching 21st century skills, students are given the opportunity to become capable members of our society.  
Opening for scientific working 
As a logical consequence, the open schooling approach therefore also focuses on a new component of science learning. Grau et al. speak in this regard of an "Open Schooling approach, in which science learning processes are strongly linked to the students' participation in real-life science challenges in society and in real research and in innovation circles." (Grau et al. 2020, p.5). 
Didactical considerations 
From a didactic point of view, the MOST project also stands out from other exciting projects in the field of sustainability due to its multi-perspective, interdisciplinary and cooperative approach. The participation of different actors in the project offers the opportunity to open up the school system, a system that is often isolated, especially in times of the pandemic, and to link it to other areas of life for students. This way, everyday and professional references can be shown. Since schools were or are partially closed to outsiders at present, creative (partly digital or outdoor) solutions must be found for the exchange between students and other actors involved. The dissolution of roles and hierarchies is possible and desirable within the protected framework: teachers, students, citizens and experts work together on a participatory and equal basis – from the identification of topics to the dissemination of the project's recommendations for action. Different perspectives and interests do not represent a hurdle, but rather promote a critical exchange, which in turn develops and strengthens the communication, argumentation and organizational skills of the students as well as networked thinking. The focus should always be on a topic that is relevant and topical for society as a whole and that sensitizes the participants to their environment and future.  
Opening in terms of content and subject matter 
Sustainability and environmental issues have changed in recent years and decades and are increasingly influenced by areas such as globalization, digitalization and the pandemic. These interlocking issues give rise to exciting project ideas, such as those from the field of sustainable digitalization, which, among other things, focuses on resource and energy efficiency and intelligent energy systems. 
How much paper is saved through digital communication channels? How can waste heat from data centers be used to heat offices? How can electric cars be charged in the smart grid? What is the real benefit of using solid shampoo? Or how much does a coffee-to-go cup actually cost to produce?  
Mathematical modeling, chemical and physical processes in recycling or energy generation, the importance of biodiversity – these are all curriculum-relevant topics, packaged in a concrete and, above all, socially relevant context. In this way, the word sustainability takes on a double meaning: only those who conduct research on real and authentic issues can be sustainably inspired for STEM subjects. 
Do you want to be a part of MOST? Send us an E-Mail at weprotecttheplanet@ph-freiburg.de 
Literature 
Dolors Grau, Imma Torra, Francesc Mancho, Lorena Mulero (2020): Open Science Schooling. GUIDE for Secondary Schools. Available online at https://openscienceschooling.eu/intellectual-outputs/io1/, last checked Sept. 06, 2021.