Find out how in our School-Community-Project Manual!

Open Schooling Approach
Open Schooling brings together private individuals, schools, companies, and associations to work on eye-level to find strategies to overcome current environmental and social problems. The Open Schooling approach leads to a sustainable networking system between schools and their communities and fosters a broader understanding of scientific processes. It thereby intends to promote the scientific knowledge and transversal skills of society in the long term.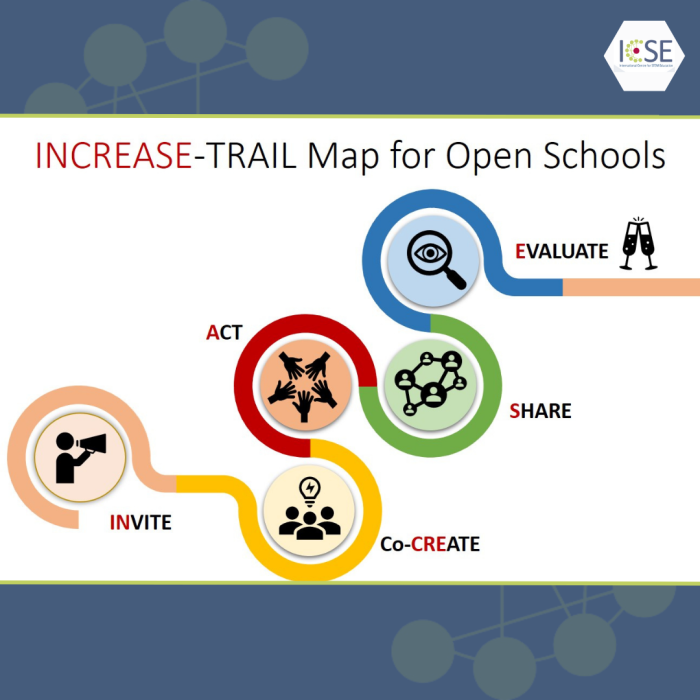 School-Community-Project Manual
One of the main attributes of Open Schooling projects is the collaboration between schools and communities; this is why the single projects are known as School–Community-Projects (SCP). The manual describes important steps that should be taken into account by SCP leaders when carrying out a school community project. It creates a framework for a school–community project and helps with the question of which teacher, which classes and students are possible participants in such a project, and how to come up with an appealing, socially relevant topic that affects the region itself.
The objective of this document is to provide an insight into the overall structure of a school community project. The sequence of work steps to be followed are explained using the INCREASE–Trail Map (fig.1) – a guide that provides assistance in implementing SCPs in a way, that has already proven to be successful in other Open Schooling projects.
Here you can find a video manual on how to conduct a SCP:
Video Manual
MOST Project
To illustrate single steps, the manual mentions best practice examples from our previous Open Schooling project, called Meaningful Open Schooling Connects Schools to Communities (MOST). The  H2020 project (2020-2023) opened up formal science education and established partnerships between schools and their communities (families, science education providers, citizens, businesses etc.). Together they worked on environmental school-community-projects (Find inspiration here!) with a thematic focus on waste management and energy saving. These participatory projects directly responded to the needs and values of those involved, benefitting the community as a whole and making schools agents of community well-being. MOST's learning impact was boosted through an educational research-based approach that raised interest in science, scientific literacy and environmental responsibility.
Go ahead and start your own SCP with the support of the Manual: