Module 1: The nature of environmental SSI
Module O1 will be developed as a basis for the other modules in this project and it promotes a comprehensive understanding of environmental socio-scientific issues (SSI) guided by research and the educational discussion on SSI. It will provide meta-knowledge on characteristics of SSI and on how to deal with them. The aim of this module is to present a conceptual foundation for the other modules. In relation to the overall aim of motivating and enabling future teachers to include SSI into their teaching it will also initiate first reflections on future teachers' beliefs on including SSI into teaching and give future teachers reasons for doing so.
As an introductory module 'The nature of environmental SSI' will focus on the following topics:
LEARNING
First examples for environmental SSIs
Reflection on specific characteristics of environmental SSI
Definition of SSIs
How to deal with SSI in general: Steps needed to deal with an SSI in the sense of active responsible citizenship.
When thinking about teaching SSI the first important thing is convincing future teachers of including SSI into teaching. Therefore, this module will also encourage reflecting on future teachers' beliefs on teaching environmental SSI and will provide motivation and purpose of including them into teaching. Another important aspect is the explanation about the relevance of SSI in relation to the (HEI, national and European) curriculum and educational directives.
TEACHING
Making students aware of their own opinion on the connection on environmental SSI and mathematics and science and their beliefs related to such issues.
Why should environmental SSIs be included in mathematics and science teaching?
Environmental SSI in classroom teaching: an example for use on secondary level.
What do students learn when dealing with such a task?
Dealing with Socio-Scientific Issues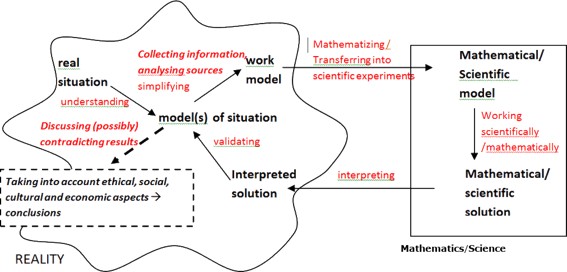 From Maass, Doorman, Jonker, Wijers (2019).
Module O1 raises the aspect of environmental SSI in initial education for future science and maths teachers and gives first insights in the potential of SSIs with regard to science and maths teaching and what roles (future) teachers and their beliefs play. This module for higher education (HE) will be used in lectures and seminars for science students in initial teacher education (ITE).
Lead Partner: Pädagogische Hochschule Freiburg